Moto Race Pro [iOS / FREE ] Android WP8
v1.96
is out!
Collect coins and don't crash, complete the levels as fast as possible to achieve maximum score points.

Snow Off Road [iOS / FREE ] Android
v1.56
released!
A big challenge off-road racing game. Just racing to the destination within the limited time. Please be careful, don't crash your vehicles.

Mad Truck 2 [iOS / FREE ] Android
v1.65
is out!
Drive the big mad truck on the mountain road to reach the destination in the limited time. There are many barriers(woods, stones, drums, scrap-car, zombies) on the road. It is crazy with big challenge.

Gravity Orange 2 [iOS / FREE ] Android
v1.27
released!
Help the orange to get all the stars, pass the orange through the window to go to the next level.

Games for iOS, Android and Windows Phone.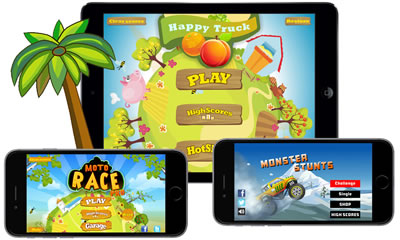 HappyTruck

Game instructions:
- Drive by pressing on the right or left side of the screen.
- Tilt the device to control the truck in mid-air. Be careful not to drop too much.
- There are 27 levels to go, so don't waste any more time and get started.
- Using box2d physical engine to simulate the collision, flying, exploding.

Features:
1. Different levels, 27 unique maps.
2. Twenty models of truck and wheel, 12 types of payloads.
3. Awesome physics, with bouncing, crashing, flying, exploding and more!
4. Tilt controls, accelerometer supported.
5. Game Center supported.
6. Optimized for iPhone 5.





Enjoy!